1980's Fashion Industry - fashion-era


Power Dressing
1980s fashion history is memorable and quite distinctive. A variety of fashion looks ran parallel to each other in the 1980s. Women of this era began to feel they that really could at last choose from one of the many contrasting looks available. The fashion look that was the most powerful over the decade was the wide shoulder. Fashion history reveals that the 80s fashion look was a tailored look. It was hard to go anywhere without at least a jacket, but preferably a complete suit. This was influenced by several movements including media influence on 1980s fashion through the popularity of TV dramas like 'Dynasty' and 'Dallas'. Costume dramas brought fashion into real everyday eighties life.
Corporate business suit dressing, Margaret Thatcher in tailored evening suits, Yuppies and the copying of styles worn by Diana Princess of Wales, all contributed to stamping the era with a style that now seems to shriek vulgarity quite simply because Laver's Law is operating.
Power dressing, New Romantics, stretch dressing and sportswear all lent a significant feeling that a woman could be anybody she chose to be.
These four looks are predominant in the fashion and costume history of the 1980s.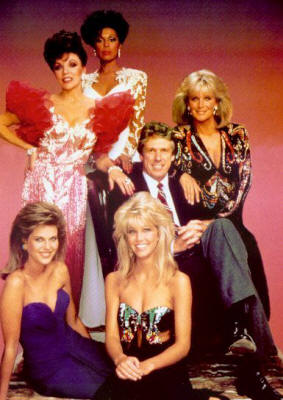 'Dynasty' the 1980s television fantasy soap series promoted fashions which enlarged the shoulder. One of the main characters was played by the naturally broad shouldered film star Linda Evans.
Nolan Miller, the Dynasty film set costume designer decided to go with her big shoulders and give slight emphasis to them. Every other actor had to be shoulder padded, but with more depth to match her shoulders.
In the 1980s 'Dynasty' was watched by a global audience of over 250 million viewers. Many who watched did so for a look at the 80's fashions which were always over the top and frankly camp. Throughout the 80s styles did filter to the mass market in watered down versions.
1980s fashion favoured applied decoration on suits and T-shirts and beadwork on clothing which all pandered to the ideals of a time of conspicuous consumption. The 1980s was a time of greed and individuals living a lie that they had everything whether it be fashion, champagne or property. Many fell into debt as the only way to acquire an 80's lifestyle for many was via the credit card.
Lavish use of both fine and costume jewellery was worn day and night on the show and it drifted into mainstream fashion. Big, almost huge gilt fashion earrings several centimetres across drew attention to faces drowning in shoulder pads. Stones could be fake or real. Diamante, pearls and gold chains were intended to tell the rest of the world you had arrived.
The women in Dynasty wore all the trimmings of jewellery along with a wide range of lavish covetable underwear and lingerie. In the 80s the all in one body the teddy, known in some countries as a bodysuit was a favourite outfit for bedroom scenes. Another 1980s fashion to find favour was the comeback of French knickers and camisoles lavishly embellished with crusty corded lace.
Big was best and fashion hair styles of the 1980s grew bigger to match the look. Mousse and gel was essential to create the style. The effects of excess mousse were so horrifying on waking up that it became normal to wash hair daily. As the eighties progressed the TV series 'Dallas' created hairstyles that blossomed ever bigger like opening flowers.
Both Dallas and Dynasty heralded the return of the shift dress in strong colours. Fuchsia pinks, sea greens, purples, royal blue and red shimmered in silk and polyester foulard copies. Lavish use of fabric in batwing sleeves was in keeping with the excessive largesse of the era. The 1980s saw the revival of an old fashion, the batwing sleeve. The batwing style was translated into two tone sweater knits with cowl collars. Sometimes they were covered in satin appliqué free forms often worked over a mohair or angora knit. Shoulder pads were essential in knits.
1980s blouses were based on romantic looks of earlier eras in fashion history. The blouses had intricate stock or cravat effect neck wrappings, deep pleated shoulder tucks or swathed crossover fabrics. All were made up in silk or polyester satin foulard or crepe de chine substitutes which softened the harshness of severe man tailored jackets. Snug fitting jersey knit bodies that buttoned under the crotch and gave a smooth silhouette also became popular especially after the mid eighties.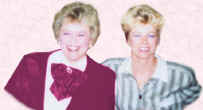 1980s Fashion history shows that as the fashion for female identity in the workplace took hold, so shoulder width grew. Increasingly large shoulder pads were used to support the wider cut of sleeves.
Right - Big Shoulders of the 1980s - Quite mannish suits and appliqué shoulder padded knitwear for women were both softened with ties, bow ties and floppy scarves tied in artist bows all often worn with long boots.

Women's shoulders had started to actually look like designers had once drawn them at the start of the 80s decade. Designers had tried to promote wide shoulders of American footballer dimensions in the early 1980s and although women initially laughed, eventually shoulder width had a rounded coat hanger effect just like those early designs and reached dimensions not seen before in the 20th century.
Left - The big jacket look was also transferred to evening wear. Wide shouldered, rich jewel shaded brocades or gold lame or lace jackets were made up following day styles.
To soften the masculine effect the sleeves of jackets and blouses were worn pushed up or rolled up to reveal attractive satinised contrast jacket linings which in itself was a way of accessorizing it.
The shoulder pad began to act as an accessory for women to stylize a garment. Garments, particularly knitwear, sweatshirts, oversized big shirts and T-shirts started to appear with detachable Velcro fixing shoulder pads. Women made their own decisions about whether an item looked the way they wanted it to look.
Designers tried to drop the shoulder pad in the same way they tried to drop the mini for the maxi in the sixties, but as in the case of the mini the public stuck to what they wanted and they wanted shoulder pads. By its nature a shoulder pad creates a smooth line over the natural hollows of the collar bone area. Women suddenly noticed that shoulder pads smoothed out body postural imperfections and they liked the effect.
Eventually designers began to get their way. The sleeve inset to shoulder line began to drop further and further down the arm which meant that the quite rounded shoulder pads rather than the initial sharply squared off versions began to hang somewhere between elbow and shoulder point. Visible support of shoulder padding was seen in garments for over ten years because women liked the way clothes hung on them.
The concept of executive dressing for women at work was firmly established by 1987 and remained in a much subtler minimalist form in the 1990s. By 1991-3 shoulder pads although still around began to decrease in size and over the next few years shoulder width gradually became smaller and narrower and pads slowly began to be left out of knitwear and even lingerie. Women also started to cut them out of garments as they moved on to newer looks.
Despite everything you may read today about power dressing being dead, it is still alive and well in the corporate office such as a legal office where a simple well cut black, taupe or navy trouser suit or pencil skirt and jacket remain the staple business attire for women who want to be taken seriously.


Accessorizing the suit was important through the 1980s and one item that appeared in the mid eighties was the large square scarf in fine varuna wool or acrylic imitation with exotic patterns and rich paisley designs. The richly patterned or dog's tooth check or solid coloured fringed shawl was draped around just about every woman's shoulders to give a finished look to an outfit. Leaflets abounded on how to wear the scarves in a dozen ways.
By the 90s the square shawl worn as a triangle was ousted by the Pashmina stole.
Costume jewellery saw a great revival and huge gold earrings, or pearl and gilt earrings that got bigger as the 80s decade progressed were the final finishing touch. Diamante jewellery and pearls were worn day and evening without embarrassment. Gilt buttons the size of earrings were also used on suits and charm bracelets with chunky gold charms were revived from the sixties.
There were many sought after accessories in the 1980s. The early 80s saw a vogue for clutch handbags in many colours with matching shoes. But the bags with style were the quilted Chanel bags or Louis Vuitton luggage. Millions bought copies of the quilted Chanel shoulder bag with its golden chain. Alternative street wear day bags were the bum bag and the Prada nylon bag. None would have been complete though without a Filofax filling it.


Hats of all styles made a comeback in the 1980s. This was due initially to their popularization by the Princess Of Wales who used them to achieve a colour coordinated look when she was first finding her fashion style. Colour coordinated fashion was big throughout the 1980s. Social events demanded a hat. The veiled pillbox hat was imitated in the cheapest of fabric making it crude and soon undesirable. Other 1980s hats included the large picture style Edwardian hat and feather versions.
Tights and Pantyhose
By the 1980s, patterned tights returned, but now they were spotted or delicately textured lace, striped or enhanced with embellishment such as a flock flower, embroidery or diamante at the ankle. In the mid to late 80s, coloured tights sheer, opaque or solid that toned and matched coordinated shoes could be seen everywhere. Vaguely Black sheer tights were worn with power suits through the eighties.
Footwear
Shoes were both low and high. The Princess Of Wales set a trend for lower footwear and it became ok to wear whatever height you liked. In summer wedge shoes and gold or metallic shoes that blended with every outfit made an appearance about 1987. Doc Martens were still of course popular with urban trendsetters. Coloured shoes of every hue were available through to the early 90s.

In the late 70s young people suddenly adopted Doc Martens sensible laced up shoes as a fashion accessory to the delight of podiatrists everywhere. Young girls suddenly took on a different look in their solid Doc Martens footwear and dainty Laura Ashley fine cotton lawn feminine floral dresses.
Right - Doc Marten shoes a fashion worn by men and women in the 1980s.
By the 1980s, low pumps were made popular by Diana Princess Of Wales. The high heel did not totally disappear, but was kept for evening as more casual footwear such as trainers became important fashion statements for those who liked them. Their popularity was sealed when New York power dressed women walked to work in them during a transport strike. There was even a phrase for the latest most fashionable trainer described as a '3 window trainer' which meant the shop front window had been smashed three times for a thief to steal a particular high fashion covetable training shoe.
One thing that was interesting about footwear particularly from the about 1982 to 1992 was the wide availability of coloured shoes and toning clutch bags in every hue imaginable. From the early to mid nineties there was a fashion for gold, mixed metallic or pewter footwear with small or wedge heels and an Italian look of appliqué or plaiting or braiding. The usefulness of the metallic neutral was that it mixed in with all colour schemes. This fashion for coloured and metallic footwear and bags was revived in 2003/4 and was a huge fashion colour trend by 2007.